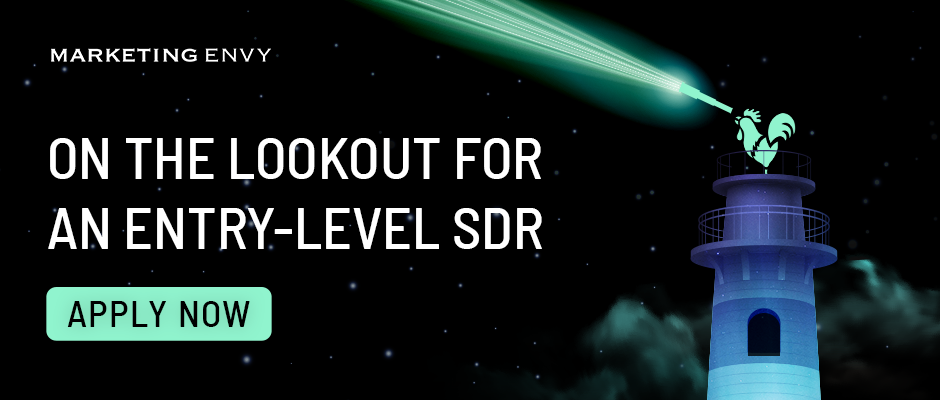 B2B Sales Development Representative (SDR)
Most entry-level SDR jobs involve calling dozens of contacts a day, getting hung up on most of the time, and watching your Account Executive take all the credit for the good leads.

If you're into that, hey, don't let us stop you.
But if you're looking for a job that involves more than cold calling, that actually teaches you sales, marketing, and CRM management… then maybe there's a better way.

Marketing Envy is Israel's leading B2B tech marketing agency. We take pride in exceeding our customer goals through inbound marketing, PPC, SEO, and social media marketing campaigns. Our SDR is a researcher, salesperson, marketer, and customer success specialist rolled into one. We're not looking for someone with all these skills yet. But we do need you ready and excited to learn them.

If you have experience in international (read:English) sales and are interested in moving into the field of B2B sales, we would like to hear from you.
What you will be doing

Researching target audience and creating a plan of who to contact and with which offering
Contacting cold and hot leads, conducting qualifying written conversations, and creating relationships via LinkedIn and/or emails until they are ready for a call with a sales rep.
Working with Hubspot, LinkedIn, and other sales tools to automate and optimize our sales workflow
Scheduling appointments with prospects and designated contact person
Following up as needed with prospects
Developing and implementing the company's sales process and sales operations
Reporting on KPIs and efforts regularly


Requirements:

Native Level English - must
Linkedin Savvy - able to engage C-level executives on social media platforms
Experience writing microcopy for social media and emails - big advantage
"Can-do" attitude, hard worker, and self learner with an interest in online marketing and excellent people skills
Amazing attention and passion for small details
Strong research and analytical skills
Strong technical skills, experienced working with LinkedIn, Spreadsheets, CRM's or other sales tools.