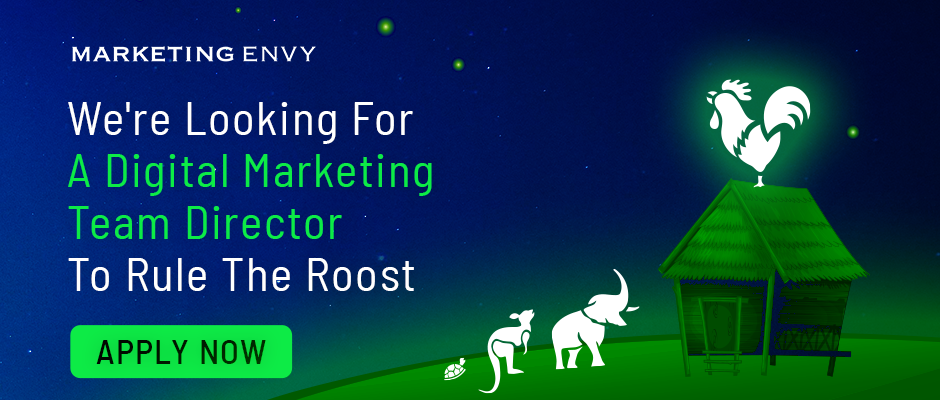 Digital Marketing Team Director
Are you the one? Marketing Envy is looking for a leader for its glorious Digital Marketing Team.
Do you prefer to strategise groundbreaking B2B digital marketing campaigns instead of playing Catan? Is setting (& exceeding) industry benchmarks one of your hobbies? Does the thought of working with some of the most talented marketers and clients on the planet make you drool? Let's talk :)
The Digital Marketing team Director is responsible for designing, communicating, and overseeing the successful delivery of inbound and paid campaigns for Marketing Envy's ridiculously ambitious clients.
The team is tasked with setting benchmarks for B2B tech marketing strategies & playbooks that:
Create an impact for our clients.

Will enable the agency to scale for greater growth.
What you will be doing

Planning, developing, implementing, and managing the digital marketing strategy and activities for our enviable clients - inbound and PPC

Mentoring, managing, and training the team of digital marketers; teaching everyone you work with how to do their job better

Working closely with different teams to launch ridiculously successful campaigns and ensure our clients continue to be the envy of their eco-system

Rolling up your sleeves and doing some content management, social media and automation tasks yourself

Making our clients fall in love with you, trust you, and want to work with you more

Developing and implementing in-house processes that will enable the agency to scale

Researching competition and benchmarks; setting benchmarks for agency work

Proving the plans worked by meeting and exceeding ROI and KPIs
Requirements:

Command English well enough to correct the grammatical errors in the New York Times (written & spoken) – a must

Wow us with at least 3 years of experience managing marketing teams who weep for your return (including inbound marketing and PPC)

5-10 years experience working in previous enviable marketing roles (agency experience is a significant advantage)

Understanding of the Inbound and PPC methodologies and best practices

Previous experience with tech content or marketing for a tech company

Experienced using HubSpot or other marketing automation tools

University degree

Strong managerial and project management skills