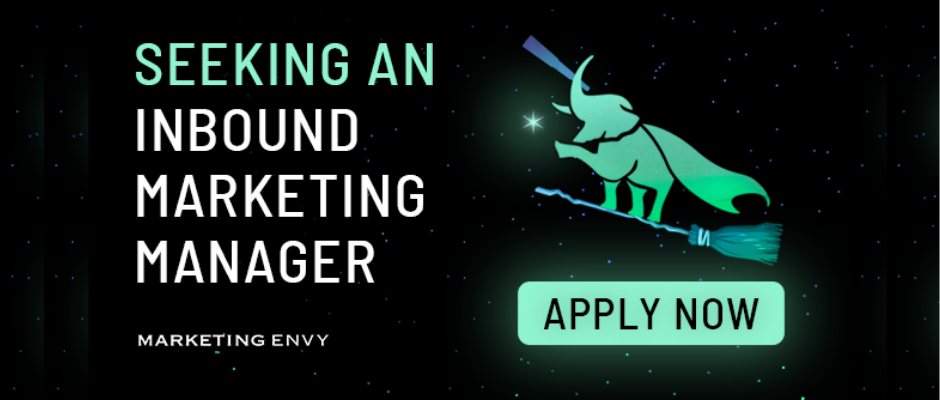 Inbound Marketing Manager
Marketing Envy is looking for a new Inbound Marketing Manager
Ok, what we're really looking for is someone with the writing style of Hemingway combined with the social media acumen of a Kardashian. But I've been told that's "not realistic" and I should "stop wasting time".
So let's try again.
We're looking for Inbound marketers who can not only write well, but can answer questions like:
What kind of content should my company be producing?
Why isn't this landing page converting?
Why don't any marketers I hire look like Jon Hamm?
*Do not apply to this job if*
You don't like writing/editing in English
You haven't written an email since your grandmother opened an AOL account in 1997
What you will be doing

Working with the team to devise unique content and social media strategies for customers.
Writing blog content and/or managing copywriters, promoting, moderating and monitoring content on client's social media channels.
Managing external resources such as graphic designers, copywriters and web developers to get the job done.
Managing social media channels for customers, engaging potential customers and initiating discussions with influencers.
Planning, executing and analyzing marketing strategies using marketing automation tools.
Requirements:

Fluent English (written & spoken) – a must
2-3 years experience in previous inbound/email marketing role (agency experience is a significant advantage)
Previous experience with tech content or marketing for a tech company
Understanding of the Inbound methodology and best practices
Experienced using HubSpot or other marketing automation tools
University degree
Natural born writer with strong editing skills
Strong project management skills
Power social media user