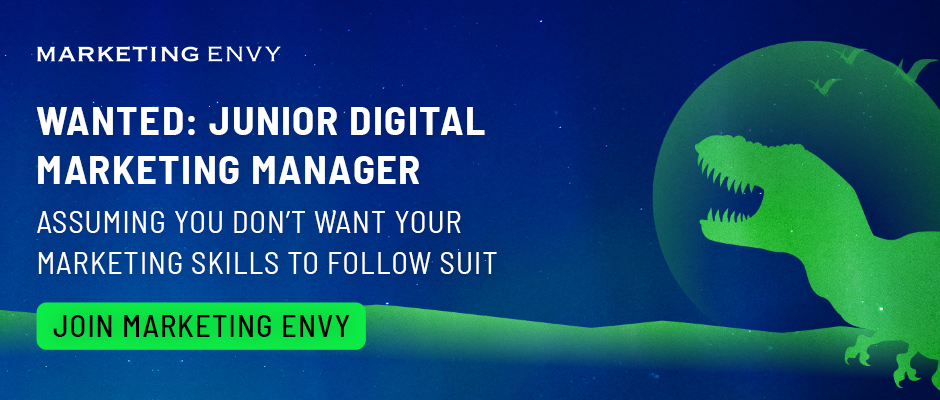 Junior Digital Marketing Manager
Marketing Envy is looking for a Junior Digital Marketing Manager to join our fast growing team.
Marketing Envy provides B2B tech companies and startups with the strategy, technology and operations they need to launch and scale their digital marketing and sales activities.
We build top notch marketing machines for our B2B clients, all the way from lead acquisition through to nurturing and qualification, to becoming business opportunities and finally, delighted customers. Our strategies and campaigns are founded on SEO, content, organic and paid social media channel promotions.
Our years of experience in reaching targeted professionals mean we can humbly and confidently call ourselves the expert team! We're also a HubSpot Diamond Partner :).


What you will be doing

Managing social media channels for customers, engaging potential customers and initiating discussions with influencers
Learning how to implement content strategies -- from suggesting content to briefing writers and reviewing their work.
Managing external resources such as graphic designers, copywriters and web developers to get the job done.
Learning how to plan, execute and analyze campaigns using marketing automation tools such as HubSpot and SEMRush.
Improving clients' website conversions through pop-ups, chatbots and more
Working with and learning from the best Digital Marketing professionals the tech space has to offer
Requirements:
Fluent English (written & spoken) – a must
Internship or work experience within an agency is a significant advantage
University degree
A natural born writer with strong editing skills
Strong project management skills
A genuine love for technology and staying on top of a rapidly changing industry
Power social media user
Quick learner and hard worker, we are willing to teach
Ability to move people to action/engage in conversation
Passionate, committed, creative, success-driven