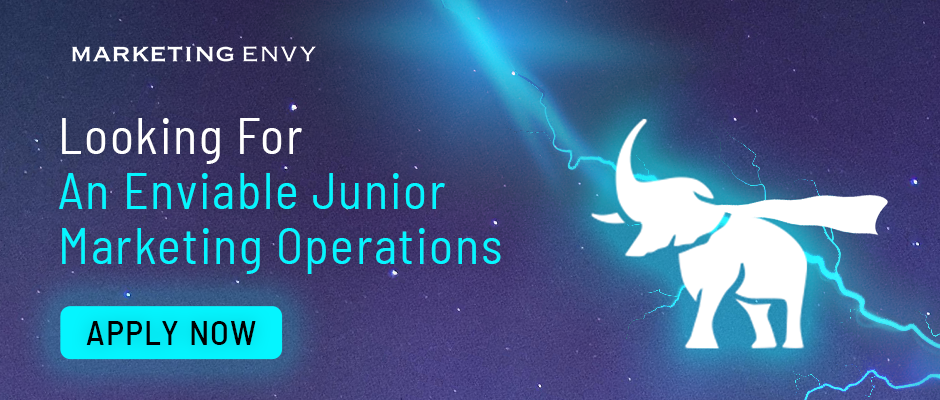 Junior Marketing Operations
Marketing Envy is looking for a Junior Marketing Operations to join our fast growing platform operations team.
Marketing Envy is THE B2B Marketing agency for tech companies and startups that need more deals in their pipeline - pronto!. We build top notch marketing machines for our clients, all the way from lead acquisition and deal sourcing, through to nurturing & qualification, to becoming business opportunities and finally, delighted customers.
We're also a HubSpot Diamond Partner, which means we're pretty good at what we do.
So if you have a little bit of background in marketing, and a lot of passion for using technology, we want to meet you. We don't expect you to know much; If you're the right person, we'll teach what we know, and then you will teach us how to do it better.
What you will be doing

Learn to become an expert user of the HubSpot product suite
Execute marketing campaigns on HubSpot including: marketing and sales emails, landing pages, forms, workflows, chatbots, calls to action, social posts, and more
Work as part of our client delivery team and become the focal point for all things related to HubSpot
Implement HubSpot from scratch, or -
Operate existing HubSpot portals (accounts) on behalf of our clients
Learn industry and agency best practices, and implement them in your day to day work
Background you should have

Project & time management skills
Beyond basic level Excel capabilities
Experience working with any type of marketing technology/tool (Wordpress / Paintbrush, HTML, Mailchimp or any other marketing tool)
Self-starter and fast learner - you know how to set your own pace
Excellent English in both speaking and writing
Strong service orientation
Advantages:
Familiar with B2B marketing principles
Experience in digital marketing and/or email marketing