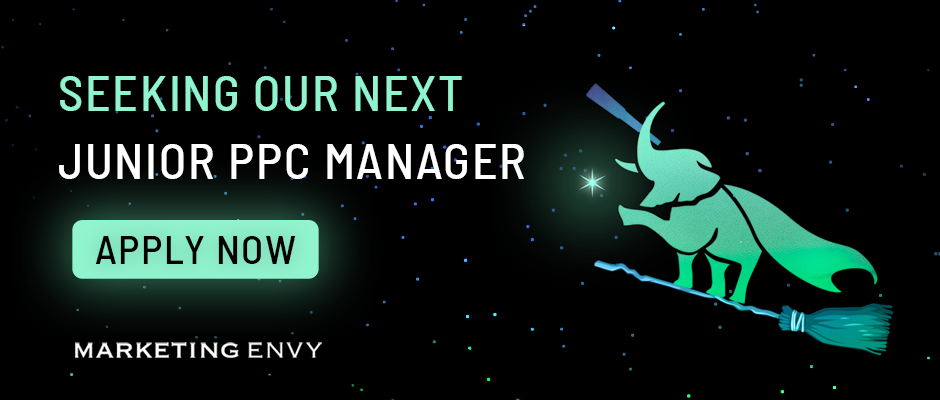 Junior PPC Manager
Marketing Envy is looking for a Junior PPC Manager to join our fast growing digital team.
Marketing Envy provides B2B tech companies and startups with the strategy, technology and operations they need to launch and scale their online marketing and sales activities.
We deliver fresh leads to our clients, our clients turn those leads into opportunities, and those opportunities into delighted customers (who bring more leads, more customers, and more leads, and more….well, you get the point).
So if you're super-analytical, love PPC, daydream about CTRs and are personally offended by low Ad Quality Score, we'd love to hear from you!
What you'll be doing and learning

Driving traffic from leading PPC and Social Media Channels
Excelling in AdWords, Facebook Ads, LinkedIn, Twitter and many more channels in global markets
Measuring and optimizing landing pages
Implementing tracking solutions to ensure all channels work well together
Analyzing product onboarding and conversion funnels
Lots of testing and playing – we A/B test it all, over and over again
Requirements:

Quick learner - we will be teaching you lots and lots
Campaign management course (PPC)/ Strong Analytical background - Must
A genuine love for technology and staying on top of a rapidly changing industry
Excellent English – verbal and written
Previous campaign management experience - an advantage
Strong analytical skills and attention to detail
Know your way around Google Analytics & Excel
High energy, drive, and maturity
Demonstrated persistence and ability to overcome obstacles