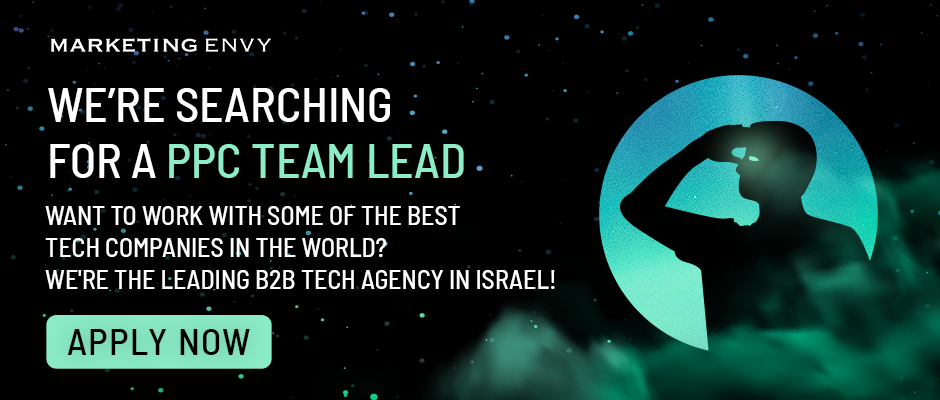 PPC Team Leader
Marketing Envy is looking for an experienced PPC Team Leader to lead and nurture our growing PPC team.
Marketing Envy is the leading B2B Tech Marketing agency for tech companies and startups that need marketing qualified leads and need them now. We deliver fresh leads to our clients, our clients turn those leads into opportunities, and those opportunities into delighted customers (who bring more leads, more customers, and more leads, and more….well, you get the point).
So if you're a leader, super-analytical, love PPC, daydream about CTRs and are personally offended by low-Quality Score, we'd love to hear from you!
What you will be doing

Oversee all Campaign Managers. Mentor, manage and train all Campaign Managers as needed.

Create, monitor and optimize existing advertising campaigns on native platforms, including Facebook, LinkedIn, AdWords, Twitter, Quora and dedicated ABM Platforms.

Fully understanding our clients' business objectives and translating these objectives into PPC strategy and action plans.

Collaborate closely with the inbound team to drive a cohesive vision, message and user experience with advertising campaigns

Manage large B2B international marketing accounts - From strategy to hands-on

Constantly provide creative best practices and feedback to drive high-performing advertising campaigns

Constantly researching the latest tools, techniques, and features in paid online marketing and forming a view on their relevance to our business' objectives

Analyzing product onboarding and conversion funnels - From Lead to MQL and all the way to opportunity.

Lots of testing and playing – we A/B test it all, over and over again
Requirements:

At least one year of experience as a Team Leader - Must

At least 2 years previous campaign management experience, in-house or agency – Must

Excellent English – verbal and written - Must

Know your way around Google Analytics & Excel really really well

Strong analytical skills and attention to detail - Must

Prior experience with large scale PPC accounts, preferably B2B related

A genuine love for technology and staying on top of a rapidly changing industry

High energy, drive, and maturity.

Demonstrated persistence and ability to overcome obstacles

Quick learner – we will be teaching you lots and lots